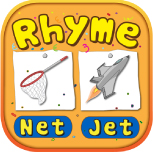 Bud's Rhyming Words
It's rhyme time!
Let the kids Pick & Click or Catch the Match in 3 wonderful rhyming games.
Word Families
It enchants learning through selecting a vowel and a word family, then its time to match the pictures or objects to the words. It promotes object identification, increases vocabulary, reading skills and interactively enhances proper pronunciation.
Pick & Click
It is the most thought provoking activity, as the kids are asked to match the pictures of rhyming words. This game acts as a reinforcement of the 'word families' in an engaging and intuitive manner peaking your child's curiosity.
Catch the Match
Bud is set out on an adventure to explore the ocean bed in search of the rhyming words. Meet the fishes and Octopus but beware of the wrong words. Do not forget to try your best and receive the much deserved positive responses from a job well done (Thumbs Up!)
More >