Apps
Nimble Minds apps and games are aimed towards providing quality learning experience without compromising the fun factor.

Heartily crafted for casual gamers who like fast-paced,high-score games and of course, have a love for words.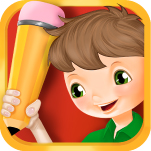 Celebrating 1 million downloads!
Also available in Spanish, Japanese and Korean

Rhyming is creative and a fun way to play with language. In Bud's Rhyming Words, kids will learn word families, CVC, short and long vowel words through three wonderful games.